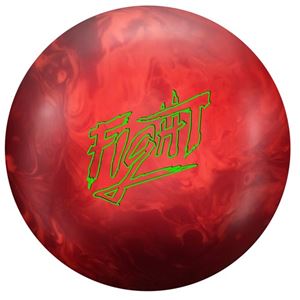 Storm Fight
Specs: - RG 2.62 Finish Matte Ball Color 2-Tone Red Lane Condition Medium Coverstock Reactive Resin Ball Quality First Quality Ball Warranty 1 Year Factory Finish 3000-Grit Abralon Breakpoint Shape Maximum Flare and Axis RotationCoverstock Name R4S Solid Reactive Core Name Iron Cross Differential 0.043 Durometer 73-75 Rex D-Scale Flare Potential 3-5" (Medium-High) Fragrance Candy Apple Core Type Symmetric Performance Advanced Performance[6] Storm Product Line Thunder Release Date 02/02/2016

We drilled one Fight so far and have been able to use it on multiple patterns. When we drilled this ball, my goal was to create a shape for flatter, harder patterns. We drilled it as: 3 ½ x 3 ½ with a medium sized hole directly on my axis. We haven't tweaked the surface at all, we just let lane oil shine it for me.
We have been able to use this Fight mostly on medium to shorter patterns. Even with the big core, the RG is high enough to create a good amount of length through the front part of the lane. Because of the strong drilling, I've taken a lot of the motion away from down lane, and used more energy through the front and mid-lane.
If you are a looking for a slower response time, smooth, but predictable shape in your bag, the Fight will be your best bet. It compliments the Alpha Crux, IQ 30, and HyRoad very well.


Watch The Video Go To Website! Click Here!