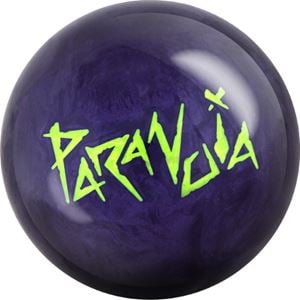 Motiv Paranoia
Specs: RG 2.53 Finish Polished Ball Color Purple Pearl Lane Condition Medium Coverstock Reactive Resin Ball Quality First Quality Ball Warranty 1 Year Factory Finish 5500 LSP (Laser Scan Polish) Breakpoint Shape Controlled Angularity Coverstock Name Agitator Pearl Core Name Oblivion Differential 0.047 Flare Potential Medium/High Core Type Symmetric Performance Release Date 03/09/2016



Built as a controllable upgrade from the original Octane, this ball fits very nicely into the Medium Oil-Angular motion chart slot. On the fresh this ball is super clean, saving its energy for a very strong, yet predictable, backend motion. A sanded Paranoia and an out of box one can be a dangerous one-two punch in medium conditions that easily burn. Over all if you need a medium oil, quick responding ball that gives you control and power through the pins, ook now further than the Paranoia!




Watch The Video Go To Website! Click Here!